FROM JUKOLA'S DAIRY FARM AT LEIVONMÄKI
Real Cheddar from the cheesery at Leivonmäki in Joutsa is hand-made using the traditional Cheddar-making method. The freshest morning milk from our own dairy farm is used as the ingredient. The Cheddar cheese made by our artisans is produced from hard work and a passion for cheeses.
This is how we make Real Cheddars to be enjoyed in good company or just on your own.
You know it when it's Real
We cherish the traditional cheese making process which is the real and only way of making cheese. We focus only on producing cheddar cheese. The people's passion for making the most delicious cheese keeps us constantly moving forward.
Enjoy those real moments alone or together, in everyday life or in celebration. Enjoy it on a cookie or a bread, in a salad or a soup. Use it in cooking or put it in a barbeque or enjoy it even in desserts. Only your imagination is a limit.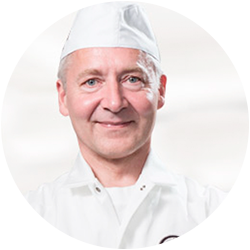 Markku
Master Cheese-maker, Managing Director
040 570 0522
markku.liias@jukolanjuusto.fi