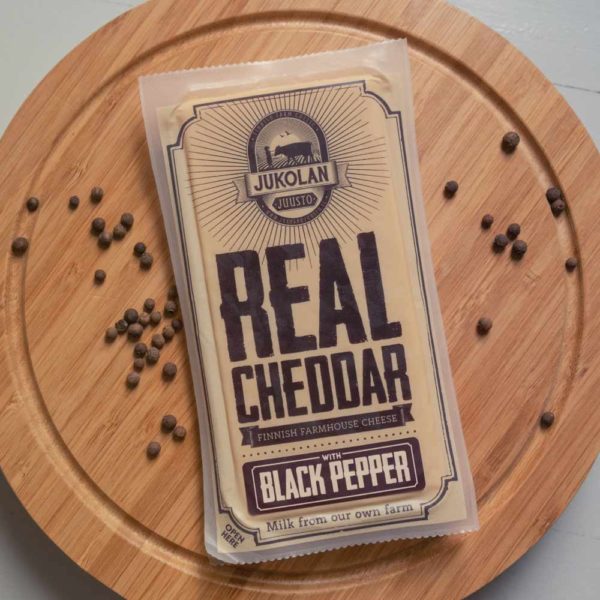 Real Cheddar with Black Pepper
Chosen as the best cheddar in Finland this Black Pepper Cheddar spices up the cooking. It has that strong peppery taste which goes along in the creamy cheddar. At least three months of aging brings out nicely the aroma of the pepper.
All our Real Cheddars are made of morning milk that comes from our own dairy farm in the hands of our very experienced cheese masters. We cherish the traditional cheese making process which is the real and only way of making cheese. We focus only on producing cheddar cheese. The people's passion for making the most delicious cheese keeps us constantly moving forward.
Aged

Minimum of 3 months
Information
Weight 160 g
Shelf Life 230 days
Store the product under 8 degrees Celsius.
Further characteristics
Lactose-free, unhomogenized, Produce of Finland
Ingredients
Pasteurized milk from the morning milking, black pepper, salt, souring agent, color annatto
Nutritional Facts/100 g:
Energy 1,720 kJ / 410 kcal, Fat 32 g, of which is saturates 17 g, Carbohydrates 0 g, of which sugar 0 g, Protein 26 g, Salt 1,3 g, Calcium 760 mg
Traders
Retail packaging EAN 06405899040009
Sales Batch 8 pieces EAN 06405899240003
Pallet 1408 pieces EAN 06405899340000
Orders
tilaukset@jukolanjuusto.fi
More information 
info@jukolanjuusto.fi
+358 40 570 0522